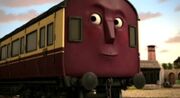 William, Emily, and Matthew are Great Western bogie coaches, which can be uncoupled at stations without stopping.
Before coming to Sodor, Duck used to pull three slip coaches on the "The Sunshine Line", part of the Great Western Railway. Later, Duck told the other engines about his coaches. James told Sir Topham Hatt about purchasing slip coaches, claiming Duck's idea as his own, when the Fat Controller was concerned about passengers getting to their destinations on time during the peak summer months. James was rewarded with the chance to pull the coaches on Duck's Branch Line, but did not know how to time the uncoupling correctly. At Bluff's Cove, after uncoupling Matthew, he slowed down to show off his paintwork. Because the last coach was still moving, it bumped into the back of the rest of the train.
Since Duck knew how to handle the slip coaches, he was soon put in charge of pulling them round the island. By coincidence, the Slip Coaches that the Fat Controller purchased were the same Slip Coaches Duck used to pull on the Great Western Railway.
Duck enjoyed pulling his old coaches again but, realized that he couldn't have five coaches off his own. Duck decided to keep Alice and Mirabel because he had them for so long. So, Duck taught Jaime how to properly time when to release the slip coaches. When Jaime finally learned it properly Duck gave him the slip coaches.
At Christmas, when Connor needed extra coaches for his last train on Christmas Eve, the slip coaches offered to help. Matthew was released at Kellsthorpe Road, Emily was released at Maron, and William was released at Wellsworth. Unfortunately, William overshot the platform, but Thomas managed to shunt him to the platform.
Community content is available under
CC-BY-SA
unless otherwise noted.