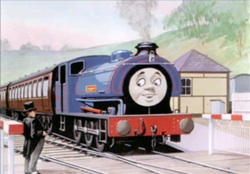 Wilbert is a saddletank who work on the Dean Forest Railway.
Wilbert was manufactured by the Hunslet Engine Company in Hunslet, Leeds, England, in 1953 and worked as a shunter at a colliery in Staffordshire. He was purchased by the Dean Forest Railway in 1976.
On November the 8th, 1983, Wilbert was honoured to haul a royal train for the Duke of Gloucester, and on September the 8th, 1991, attended the opening of the line to Lydney Lakeside with City of Truro.
When Donald and Douglas needed help on the branch lines in 1993, Sir Topham Hatt borrowed him from his railway in Gloucestershire - the railway's controller was a friend of his - to give the twins some assistance. However, after Percy had an accident with some sacks of oatmeal, Wilbert was redirected to Thomas' Branch Line to do Percy's work. After Percy's return, Wilbert went to help Duck and Oliver on Duck's Branch Line.
Community content is available under
CC-BY-SA
unless otherwise noted.