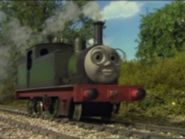 Whiff is a grubby green tank engine who collects refuse. His main task is collecting rubbish and scrap, which explains his dirty appearance and smell. He works at Whiff's Waste Dump with Scruff.
When Whiff first came to the railway, Emily was asked to help him out. Emily was under the impression that he would be more intriguing and that the task would be more exciting; Emily was eager at first, but disappointed when she learned that Whiff worked with rubbish. Emily tried to avoid being seen with him, but Whiff found her almost everywhere she went. Although the two were mocked by other engines wherever they went, Whiff maintained a cheery expression and seemed either not to notice or care. When Emily finally escaped from Whiff, she found Spencer blocked by a long line of trucks full of rubbish. When none of the other engines helped, she found Whiff. Emily apologised to Whiff, and together they cleared Spencer's line.
One day, Whiff was meant to take away a truck of old cans from a siding. Toby,who was looking for something special to present to the Fat Controller, mistook the distant truck at first for something valuable. Later, Whiff brought Sir Topham Hatt to a broken-down Toby, who had discovered a sign belonging to the old Sodor Tramways.
Whiff now runs his dump with help from Scruff. One day, when Scruff's "scruncher" was broken, Whiff stayed with him at the Sodor Steamworks until he was mended. This left the rubbish dump without anyone to run it, so Gordon was put in charge for the day.
Built- 1869
Designer- Edward Fletcher
Builder- Gateshead
Arrived on Sodor- 2007
Original Railway- North Eastern Railway
Community content is available under
CC-BY-SA
unless otherwise noted.