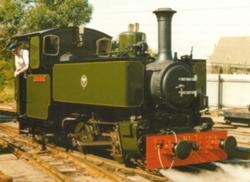 Tom Rolt was built at the Talyllyn Railway's Pendre Works, using parts of a seldom-used 3ft gauge Andrew Barclay 0-4-0WT, built in 1949 for Bord na Mona, the Irish turf board. An 0-4-2T, it is the line's newest, largest, most powerful steam locomotive, having entered service in 1991. It is named after the author L. T. C. Rolt, who inspired the Talyllyn's preservation and was its manager in 1951 and 1952.
On May 6th, 1991, Tom Rolt's name was unveiled by L. T. C. Rolt's wife Sonia.
In August 2000, Tom Rolt returned to service after its annual boiler inspection and overhaul. It always carries the standard TR deep bronze green livery.
In 2007, Tom Rolt was withdrawn from service for an overhaul, but came back into service in early 2009.
Built- 1991
Designer- Talyllyn Railway
Builder- Talyllyn Railway
Arrived on the Talyllyn Railway- 1991
Original Railway- Talyllyn Railway