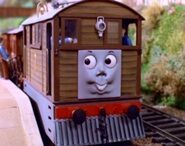 Toby is a steam tram who works on his own branch line. He has two coaches named Henrietta and Victoria and a luggage van, Elsie.
Bio
[
]
Toby was built by James Holden at GER's Stratford Works in Stratford, London, England in 1914 and originally lived at Great Yarmouth Docks, Norfolk with his brothers before working on the Sodor Tramways. In 1951, Toby came to work at the quarry on Thomas' Branch Line after the Sodor Tramways closed, as it was found to be illegal for Thomas to go on The Quarry Tramroad without sideplates or cowcatchers.
Toby is old and, at first, was teased by James for his shabby paint. James stopped calling him names after he crashed into some tar wagons and Toby was given chocolate-brown paint for his hard work.
Toby also got into a bit of a controversy with a female Diesel shunter named Mavis as she was not willing to shunt the trucks where they needed to be. After an accident with some trucks, the two engines made up their quarrel and are now good friends.
After this, he was sent to The Works to be mended, but ran out of water on The Main Line, due to the signalman not understanding about Toby's low water capacity. In result, James had to push Toby to the works while pulling the express.
Toby discovered Castle Loch and The Old Mine, and, while staying on guard, met the Old Warrior Ghost, who was really a narrow gauge engine named Bertram. After this, the two engines became good friends and now take visitors to and from the castle and mine. He later discovered the old Sodor Tramways sign. Later on, Toby had to rescue Farmer McColl's lambs that were trapped on a hillside.
Toby was assigned to work with Bash for the day as Bash's reward. Seeing how much he liked Sodor, Toby decided to find Bash a place to live there, much to Bash' chagrin. Eventually he listened to Bash and took him home. Later, Toby was shy when Belle tried to befriend him, but eventually they became friends.