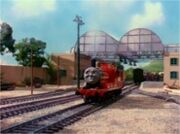 Tidmouth is a town situated on the River Tid Estuary, on Sodor's west coast. With a population of 35,000, it is the largest town on Sodor. It is home to the headquarters of the North Western Railway and the main line sheds.
The Tidmouth, Knapford and Elsbridge Railway reached the town via a road-side tramway from Knapford, which was destroyed after a gale in the autumn of 1908. A treasury grant was obtained in 1910 and a tunnel was built. In 1916 the North Western Railway completed another tunnel, this time with an extra line, and Tidmouth's value as a harbour began to be used.
The passenger station has four terminal lines and a through road leading to Duck's Branch Line, sheltered by a glass roof. Tidmouth station has four platforms, a glass roof, and about eight trains a day. It contains the Sir Topham Hatt's office, and is the station where Queen Elizabeth II visited Sodor. Gordon also pulls his Express out from there every day.
The local economy mainly comes from shipbuilding, fishing and heavy industry.
Community content is available under
CC-BY-SA
unless otherwise noted.