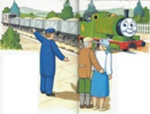 The Foreign Passengers were an elderly couple that travelled in Toby and Henrietta. Unfortunately, the two passengers missed their stop and end up at Dryaw. They could not understand English also. Later, Percy chuffed in with some trucks and the guard gave them a comfortable ride in his brakevan. In return, the two gave Percy's crew gloves and scarves, and a thank you letter addressed to Sir Topham Hatt.
Community content is available under
CC-BY-SA
unless otherwise noted.