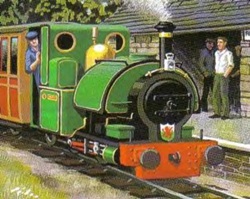 Talyllyn lives on the Talyllyn Railway.
Talyllyn, along with his twin Skarloey, was built in 1864 by Fletcher, Jennings & Co. of Whitehaven as an 0-4-0ST. Talyllyn was the only engine on the Talyllyn Railway for two years until Dolgoch arrived.
Talyllyn had a short wheelbase and long rear overhang which led to his rapid conversion to an 0-4-2ST. As the more popular of the Talyllyn Railway's two original locos, Talyllyn was in very poor condition by 1945 when he was laid aside. He was rebuilt in 1957-58 by Gibbons Bros. Ltd., but proved problematic and has undergone considerable modification since then, resulting in a much improved performance.
In April 2014, Talyllyn's right-hand side connecting rod broke, which resulted into him being sent to the Ffestiniog Railway for the connecting rod to be mended, and a bottom-end overhaul to be carried out at the Boston Lodge Works. In August of that year, Talyllyn returned to service, and on September 24th, he celebrated his 150th birthday in grand style alongside Dolgoch.
Community content is available under
CC-BY-SA
unless otherwise noted.