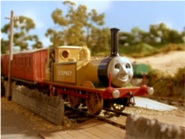 Stepney, named after a district in London, is a tank engine who runs Stepney's Branch Line.
Stepney was built at Brighton Works in Brighton, England in 1875 and later rebuilt in 1912. He arrived on the Bluebell Railway on May 17th, 1960, after the railway's founder Bernard Holden MBE helped to save the line for preservation. Stepney was the first engine to be rescued by the Bluebell Railway.
In 1963, Stepney came on loan to Sodor and worked briefly with Duck at Tidmouth before working on Thomas' Branch Line, during which time he caught a cricket ball in a truck while passing the Elsbridge cricket field. Towards the end of his stay, he returned to Tidmouth, and on his last day double-headed the Express with Duck after The Diesel failed.
Stepney was sent from the Bluebell Railway to the North Western Railway because the manager of the Bluebell Railway figured it was better for Stepney to be working everyday instead of sitting around on a preservation line. Stepney was given his own branch line soon after he became an official engine on the North Western Railway.
Stepney later helped Toby and Mavis at Anopha Quarry. This excursion nearly ended in disaster after 'Arry and Bert tried to scrap Stepney, luckily without success, after Stepney accidentally ventured into the Sodor Ironworks.
Community content is available under
CC-BY-SA
unless otherwise noted.