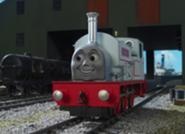 Stanley is a silver tank engine who works on Stepney's Branch Line.
Stanley was brought to Sodor to take care of Thomas' workload during the restoration of Great Waterton. Upon his arrival, Stanley became very popular and enjoyed the company of the engines.
Stanley's popularity caused Thomas to feel jealous and later neglected. Thomas felt that Stanley was newer, bigger, and stronger than he - and would take over his place on the railway. Thomas then planned to make Stanley look weak - the trick backfired and caused Thomas' friends to consider him mean and incompetent.
When Thomas later went missing, Stanley was the first to realise Thomas' feelings. He searched for Thomas until he finally managed to find and rescue him. Then, both became friends and with a combined effort made it back to Great Waterton in time to prepare for the opening celebrations.
Stanley later worked in the yards with Thomas and James during the winter and helped with the rebuilding of the Sodor River Bridge. Stanley was amongst the engines at Knapford who were worried about Percy's whereabouts when Percy was spending his time with the Diesels at the Sodor Dieselworks.
Community content is available under
CC-BY-SA
unless otherwise noted.