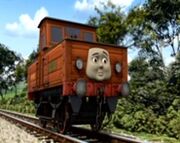 Stafford is a battery-electric shunting engine, who works on the North Western Railway.
Bio
[
]
When Stafford first arrived on the Island, Spencer was given the job of showing him around. Spencer failed to listen to a warning about Stafford's battery running out and when it did, Spencer did not notice. Spencer later ran out of coal and Stafford had to shunt him to Knapford. There Sir Topham Hatt called Stafford a really useful engine and welcomed him to Sodor.
He was jealous of the steam engines because of the noises they made, and tried to be like them, but only caused confusion and delay when he did a job that was meant to be done quietly. In the end, he decided he was happy to be quiet Stafford the Electric Shunting Engine.