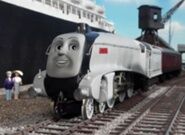 Spencer is a sleek engine privately owned by the The Duke and Duchess of Boxford. He resides on The Other Railway.
Bio
[
]
During his first visit to Sodor, Spencer took the Duke and Duchess of Boxford on a trip around Sodor. He ignored Gordon's warnings about taking on water and thus ran out - Spencer attributed the incident to a leaky tank.
Upon his next visit, Spencer challenged Edward to a race and maintained a lead for the majority of the race, but vainly fell asleep while the Duke and Duchess stopped to take photos and lost to Edward, after Edward got onto the summer-house branch first. Spencer later showed Stafford around the Island.
Sir Robert Norramby borrowed Spencer as his private engine during the restoration of Ulfstead Castle. He transported the Earl around, and, much to his embarrassment, had to pull some stones for the job. During that time, he attempted to have races with Gordon, but when the two met Connor and Caitlin during one of their runs, they called off the race. After the restoration was complete, Connor, Caitlin, Gordon and Spencer had another race from Ulfstead's grounds.