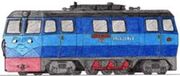 Sigrid of Arlesdale is a Diesel working on the Arlesdale Railway.
Sigrid of Arlesdale was designed as a 2-C-2 Diesel/Hydraulic locomotive and was built at Severn Lamb in Alcester, England in 1969 with a Ford 4 cylinder engine, which was later replaced with a 6 cylinder Perkins from plans made by The Small Controller and Ivan Farrier. Sigrid is one of four Diesel locomotives on the Arlesdale Railway and was named after the Sudrian heroine from the eleventh century who secured the defeat of the Norman Invasion in 1094.
Built- 1969
Designer- David Curwen
Builder- Severn-Lamb
Arrived on Sodor- 1969
Original Railway- Arlesdale Railway
Community content is available under
CC-BY-SA
unless otherwise noted.