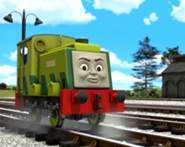 Scruff is a boxy tank engine, who works at Whiff's Waste Dump.
Scruff was brought to Sodor to work at Whiff's Waste Dump. He hates being cleaned and, when Thomas once tried to have him cleaned, he ran away and hid in a siding until he was coaxed out with the promise of being allowed to shunt rubbish trucks. He once had to go to the Sodor Steamworks to have his "scruncher" mended and later that day, he helped Gordon tidy up the waste dump before the inspector arrived.
Scruff once had to be repainted and he enjoyed his new look so much that he did not want to get dirty. He then went round the Island, looking for a new job, until Gordon reminded him that he was most useful at the rubbish dump with Whiff.
Scruff broke down at Crocks Scrap Yard. So Samson shunted him to the Steamworks. After he was fixed, he overheard Sir Topham Hatt saying Samson had taken his car to the scrapyards and Scruff told the Fat Controller he knew a shortcut. He then made it to the scrapyards just before Reg could grab it.
He and Whiff later helped out with Thomas when he ordered himself to be covered in waste, so the tank engine could play a trick on Diesel. They later attended Sir Robert Norramby's Christmas party.