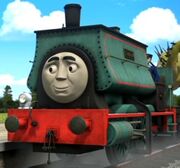 Samson is a cabless tank engine, who works on The Other Railway.
Samson is strong for a small engine and has come to the Island of Sodor to help out with Sir Robert Norramby's new Dinosaur Park. However, he got lost on the way and had to spend the night at the Blue Mountain Quarry. He did not make it to the estate until the next morning. while helping with constructions, he and Harvey both teased Millie, only to get a shock when she tricked them into believing a volcano model was about to erupt. He was asked to collect stone from the Blue Mountain Quarry, but after some teasing from the other engines about the time he got lost, he became so determined to not make another error, that he took Gordon's express coaches to the quarry by mistake. He was also put on scrap duty with Harvey, but got so carried away that he chose to scrap a postman's bicycle, a bus stop sign, and Sir Topham Hatt's car, believing they were scrap.
On another visit to Sodor he brought his brake van, Bradford. Later, Samson was trying to save time by pulling too many trucks of stone from the Blue Mountain Quarry and he got stuck on Gordon's Hill and Thomas and Paxton helped push Samson up the hill.
When The Great Railway Show was being held and Thomas jumped the Vicarstown Bridge to bring Gordon his safety valve, Samson was the first to notice Thomas when he landed on The Mainland. Seeing Samson going in the same direction as him, Thomas realised he was on the wrong track and had to avoid head-on collisions with Connor, Hiro, and Sidney in quick succession.
One foggy day, he ran over a detonator and thought it was fireworks. So he rushed away, nearly colliding with Rebecca and pushing Nia out of the way. He stopped at a siding to rest. Bradford then told him that there's nothing to fear about fireworks. When the fog lifted, Samson went up to Ulfstead Castle and discover fireworks aren't so bad after all.
Community content is available under
CC-BY-SA
unless otherwise noted.