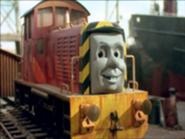 Salty is a Diesel shunter who works at Brendam Docks.
Salty worked on an unnamed coastal railway for many years, where he acquired his vast collection of stories and songs, before coming to Sodor to work at Anopha Quarry with Mavis. Salty was upset, being used to working near the sea, but he soon won the trucks over with his tales and sea shanties, and as a reward for his hard work was sent to work at Brendam Docks.
Salty has shared many stories with his fellow engines that have often come into play later on. He told Percy that the carpet he was delivering might be magic, and odd happenings convinced Percy and Gordon that it was. He also told a story about a treasure on Sodor and Thomas followed all of Salty's clues and eventually found the treasure, just as the new Sodor Maritime Museum opened.
Salty later told the engines about the "strange engines" that lived on Misty Island, a mysterious island not far from Sodor.
Salty tried to make Kevin feel better about working with Cranky. Later, Salty started experiencing engine trouble, but refused to go to the Sodor Dieselworks, as he was worried that Sir Topham Hatt might send him back to the quarry if he wasn't useful. This concern was strengthened with the arrival of Porter. Salty went to the Dieselworks, but ended up crashing into a flatbed of fuel cans in his hurry to return to the Docks. The fuel made his wheels slip, and he ended up colliding with a shipment of party decorations! Salty was now certain that he would be sent away, but, to his relief, the Fat Controller told him that he was meant to work with Porter, who had been sent to help him.
Community content is available under
CC-BY-SA
unless otherwise noted.