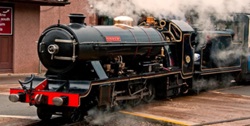 River Esk is a steam engine working on the Ravenglass and Eskdale Railway.
Built in 1923 as a 2-8-2 by Davey Paxman of Colchester and designed by Henry Greenly, it was first employed on stone trains, however soon found more use on passenger traffic. During a rebuild in 1928 by the Yorkshire Engine Co., the engine received a Poultney steam tender, making the loco a 2-8-2-0-8-0. This proved unsuccessful and was soon removed, instead being utilised nearly forty years later as part of the second River Mite, after languishing at Murthwaite. The locomotive survived into the preservation era and received a new tender in 1970 along with a new livery of LNWR black. In the 1980s, the Esk was fitted with a gas-producer boiler and received an award from British Coal, however this has been replaced in recent years. The locomotive has visited the Romney, Hythe, and Dymchurch Railway several times and was a predecessor to that railway's Greenly Pacific locomotives. The engine is currently in Blackberry Black of the LNWR with red, off-white and black lining. Since July 2012, River Esk has been under major overhaul inside the workshops at Ravenglass.
Built- 1923
Designer- Henry Greenly
Builder- Davey Paxman and Co.
Arrived on the Ravenglass and Eskdale Railway- 1923
Original Railway- Ravenglass and Eskdale Railway
Community content is available under
CC-BY-SA
unless otherwise noted.