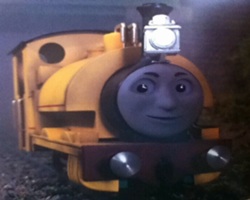 Proteus is a legendary narrow-gauge tank engine with a magic lamp hung upon his funnel, who works on the Skarloey Railway.
Proteus is a very old engine from the hills of Sodor with a magical lamp. Legend has it that his lamp was magic and if any engine ever found it, their wishes would come true. The clues to finding the magic lamp are feeling a rush of wind when the lamp is near, hearing a strange creaking sound, and see a flickering light that shines on and off. The tale of the lamp was originally a joke started by Skarloey and Rheneas because luck always went his way. The three signs were also a joke but, Skarloey, Rheneas, and Proteus' drivers and firemen came up with the signs because it was a windy night causing the shed doors to creak and the lamps to flicker.
He originally worked on the Skarloey Railway until he got lost, when he was exploring an abandoned part of the line and broke down. His crew went to get help but, they never returned and left Proteus to rust. He was later found by Duncan when he was accidentally sent down the old line. Duncan brought Proteus back with him and after Proteus was repaired he return to work on the Skarloey Railway.
Skarloey told Proteus' story to the narrow gauge engines. Peter Sam scoffed at the tale, but realizes that maybe just believing in the lamp will grant your wishes. Later, Peter Sam found a neglected statue of Proteus that was lost for many years. The statue then restored and is now preserved in a park near the Skarloey Railway.
Community content is available under
CC-BY-SA
unless otherwise noted.