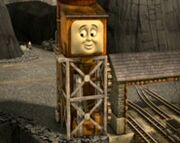 Owen is an incline traction engine.
Owen is the incline traction engine at the Blue Mountain Quarry, whose job is to transfer trucks of slate up and down the incline. When he was new on Sodor, he tried to keep Luke a secret from Thomas, and reluctantly helped Thomas up the incline when he needed to speak to Luke. This resulted in Thomas coming off the rails and hanging dangerously over the edge of a cliff, until Luke saved him and brought him back to the incline. However, the weight of both engines was too much for Owen, and the platform they were on hurled to the quarry floor.
He was later unsure about the idea of Luke's Deer staying in the quarry, believing that the quarry was no place for a deer, and became disappointed when Luke had the idea of the engines working more quietly.
Community content is available under
CC-BY-SA
unless otherwise noted.