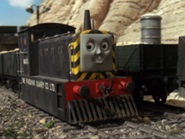 Mavis is a female Diesel engine who works for the Ffarquhar Quarry Company at Anopha Quarry.
Mavis was particularly fond of putting the trucks at Anopha Quarry in different places, despite Toby's protests. Toby finally lost patience and left Mavis to her own devices. Mavis, urged by Daisy, started to ignore Toby's advice and ended up looking silly when she got stuck outside Ffarquhar.
Mavis was then forbidden to leave the quarry, but when a thaw increased production at Anopha Quarry, Mavis persuaded the manager to let her go up to the first crossing in order to shunt trucks quicker and formulated a plan to pass the level crossing with help from the trucks. However, the plan backfired when the trucks decided to bump Toby instead, and he ended up being suspended by flimsy rails over a rushing stream and Mavis had to help. Mavis confessed, but the Fat Controller and the Manager were pleased by Mavis' courage and honesty and allowed her occasional trips to Ffarquhar.
In 1987, Mavis was involved in a collision with a lorry and Toby had to do her work while she was absent.
Community content is available under
CC-BY-SA
unless otherwise noted.