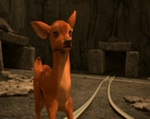 Luke's Deer was first found at the Blue Mountain Quarry by Rheneas. The baby deer was very frightened of the quarry and seemed to trust Luke. The other engines try to tell Luke that the quarry is no place for a deer, but Luke does not listen to them. During a trip to Ulfstead Castle in Luke's cab, the deer spots its mother and runs to her. Luke is very sad to say goodbye to his deer friend, but knows that he can regularly visit it at the castle and is pleased that the deer is now reunited with its mother. How the deer came to the Blue Mountain Quarry is unknown. Both the deer and its mother now reside in the park at Ulfstead Castle.
Community content is available under
CC-BY-SA
unless otherwise noted.