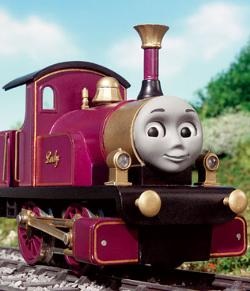 Lady is a Victorian-style steam engine who runs the Magic Railroad.
Lady once came to the Island of Sodor a long time ago, when she was found by Diesel 10, an evil diesel engine who wanted to destroy her. Lady and Burnett Stone both ran away from Diesel 10, but during the chase, Burnett used up all her coal and made her go too fast, causing Diesel 10 to catch up and crash her. Lady was taken back to Muffle Mountain and stored inside Burnett's workshop, where he spent years desperately trying to restore her to working order, but he did not have the right coal to make her steam.
Years later, Lady was still out of service, and without her, the Magic Railroad began to lose its magic. That all changed when Lily, Burnett's granddaughter, and Thomas brought a truck of coal from Sodor to Muffle Mountain, which proved to be the coal necessary to make her steam. Lady came back to life and returned to Sodor, where she was once again chased by Diesel 10. Lady, Burnett and Thomas successfully managed to escape Diesel 10, and she gave the Conductor Family the Gold Dust they needed.
Lady and Rusty both appeared in a dream of Thomas'. She told him how to resolve the conflict between the steam engines and the diesel engines, by working together regardless of their differences.
Community content is available under
CC-BY-SA
unless otherwise noted.