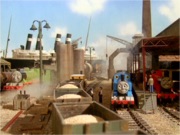 Knapford Harbour is situated west of the railway station. It was under construction with stone from Anopha Quarry being brought in to build it. However, not long after its completion, the foundations of the quay began to sink. It was here that Percy took a dive into the harbour's waters. It was also here when a crate of treacle falls on him. This is also the harbour where Diesel pushed some trucks into the sea.
Later, Percy pushed several trucks full of stone into Bulstrode's hull. After the accident, Bulstrode was towed to a nearby beach.
The southern quay is accessible from the goods branch stemming off from Thomas' Branch Line in Dryaw. The northern quay has a spur from The Main Line, going over a bridge in front of the main line one and into the northern quay. However the two quays are connected by a small bridge crossing the river. There is a small railway station located by the docks, separate from the mainline station.
Community content is available under
CC-BY-SA
unless otherwise noted.