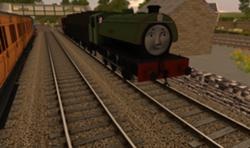 Jamie is a tank engine who works on Duck's Branch Line.
Sir Topham Hatt planned to acquire an engine to assist Donald and Douglas with their branch line work. In order to assess the abilities of such an engine, he borrowed Wilbert from another railway for a period in the early 1993. He told Wilbert that he knew where he could get another engine like him.
Built- 1943
Designer- Hunslet Engine Company
Builder- Hunslet Engine Company
Arrived on Sodor- 1994
Original Railway- British Government
Community content is available under
CC-BY-SA
unless otherwise noted.