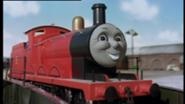 James is a vain, red, mixed-traffic engine. He works on the The Main Line and he owns James' Trucks.
James was designed by George Hughes and built at Horwich Works in 1912 as an 0-6-0 with wooden brakes. Sometime after his build, but before going to Sodor, James was experimentally rebuilt with a pony truck, making him a 2-6-0. In 1929, James was sold to Sir Topham Hatt for mixed traffic duties. After his first accident, he had his front sandboxes removed, was rebuilt with proper brakes and a Fowler tender, and repainted red with gold stripes and black lining. He was troublesome when he returned, ruining Sir Topham Hatt's new top-hat with his steam and jarring his coaches so much that a brake pipe leaked. He was threatened to be painted blue, but later promised to be useful again and made the line's worst trucks behave after being given a second chance. He also pulled the express for Gordon when the latter was switched off the main line, and went on strike along with Gordon and Henry. He later made rude remarks about Henry when he was using special coal, called Toby and Henrietta 'dirty objects', and subsequently got into an accident with some tar wagons.
James was of the opinion that he would pull the Royal Train, much to the skepticism of the others due to the time he became stuck on Gordon's Hill. Later, James became a runaway when two naughty boys fiddled with his controls, and was rescued by Edward. He and Gordon played a joke on Percy by convincing him of the existence of backing signals. Upon Duck's arrival, Percy and the newcomer blocked James and the other big engines out of the shed as revenge for teasing them. When Diesel arrived on trial, James earned the nickname "Rusty Red Scrap-Iron". James, like the other two, were turned against Duck, but were sorry after receiving proof of his innocence.
Community content is available under
CC-BY-SA
unless otherwise noted.