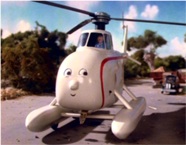 Harold is a helicopter who, lives at the Sodor Search and Rescue Centre patrols Sodor looking for problems.
When Harold first met Percy, he stated that railways were "slow and out-of-date", but was proven wrong when Percy beat him in a race. When Thomas' brakes failed while boarding at a station, with an inspector Harold chased him down the line. Christmas that year Harold brought Santa Claus to the party at Tidmouth Station. Harold also dropped hot drinks for Percy's crew when they were stranded in a floating river and made friends with Duck after rescuing an injured sailor.
Harold lived at Toryreck airfield and later Dryaw airfield by Thomas' Branch Line. He keeps a watchful eye over Sodor in case of trouble and speeds to the rescue of anyone in distress.
He now has joined the Sodor Search and Rescue team and lives in his own hangar at the Sodor Search and Rescue Centre. Since joining the team he has been involved in a search for Thomas when he got lost, saving Bertie from the Shake Shake Bridge. Once, Harold's rotors became jammed, so Thomas and Duck took him to the Sodor Search and Rescue Centre.
Community content is available under
CC-BY-SA
unless otherwise noted.