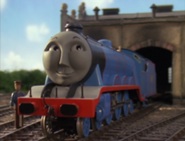 Gordon is a bright blue pompous express engine, who works on The Main Line. He is Flying Scotsman's only remaining brother, and Mallard, Green Arrow, Spencer and The Flying Thistle's cousin.
Gordon was built experimentally by Sir Nigel Gresley at Doncaster Works between 1920 and 1922 as an "A0" Pacific. When Gresley was finished using Gordon for designing his A1 Pacifics, he sold Gordon, along with a spare boiler and firebox, to the North Western Railway.
Gordon is mainly used for passenger duties, pulling the North Western Railway 's express, the Wild Nor' Wester, but has occasionally pulled goods trains. He has been known to run into ditches and stop on hills to get out of doing these jobs, as he believes that these are below him.
In 1939, Gordon went to Crewe for a rebuild. His conjugated valve gear was replaced by a two-cylinder chassis, he received a smoother running plate, Stanier underframes wheels, cylinders, squared-off side windows, rectangular buffers, and a Fowler tender.
Gordon has become famous after his adventures: In 1953, he pulled Queen Elizabeth II's royal train and in 1956, he traveled to London, where he was lauded by a large crowd. Gordon did not like the visit, however, as he discovered that London's big station was St. Pancras. Then, in 1986, Gordon got to visit Carlisle when a Diesel taking a Railtour failed.
In 2011, he was dismissed from pulling the express regularly to Barrow-in-Furness due to the purchase of Pip and Emma. He likes this, because he can do two trips a day instead of one and he does not have to hurry.
Gordon has to date been the fastest engine on Sodor, but has sometimes had accidents, due to him trying to show off. His brakes were not working, and could not stop, in result of him crashing through the Kirk Ronan Station wall. Also, he ignored Salty's advice about going slow while pulling trucks, in result of him speeding down a rickety old branch line, and tumbling into a field. Though he has proven to not be too big for his wheels, and be useful instead, like when Spencer first arrived on Sodor, he gave him advice about taking on water before going to Maron Station, in result, he ran out of water on Gordon's Hill, and Gordon had to pull him there. He along with Edward, criticized Rocky when he first arrived on Sodor, and called him "new-fangled nonsense." Afterwards, when he crashed into Edward's pipes, which had fallen off his flatbeds, he derailed. In result, Rocky came, and lifted him, and the pipes back onto the rails, proving how useful he is.
Built- 1922
Designer- Sir Nigel Gresley
Builder- Doncaster
Arrived on Sodor- 1922
Original Railway- North Western Railway
Community content is available under
CC-BY-SA
unless otherwise noted.