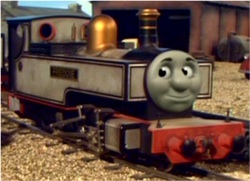 Freddie is an old Warhorse engine who works on the Skarloey Railway.
After many years of absence Freddie returned to the Skarloey Railway. He was sent to work at the Skarloey Railway Slate Quarry to learn to stop being so risky and careless.
Upon returning home, Freddie challenged Rheneas and Skarloey to a series of races up and down the mountain. After realizing that he wasn't as strong as he once was, Freddie used his knowledge of the mountain routes and short-cuts to secure victories. However, when his cheating placed Rheneas in danger, Freddie was forced to put his knowledge to better use.
When Mr. Percival's new bike was delivered to The Wharf without a bell on it, Freddie decided to find a bell - even though he didn't know where to find one until he saw Thomas taking an old foghorn and decided that the bell from the old bike could be used for the new one.
One Christmas, Freddie tried to reorganise a party so that Colin could take part. Despite his best efforts, Freddie left telling Mr. Percival about his idea until the last minute. Luckily, Freddie's idea was sorted with the party taking place at the Wharf for Colin.
Built- 1906
Designer- Hunslet Engine Company
Builder- Hunslet Engine Company
Arrived on Sodor- 1906
Original Railway- Skarloey Railway
Community content is available under
CC-BY-SA
unless otherwise noted.