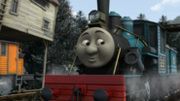 Ferdinand is a climax logging engine from Misty Island.
Bio
Ferdinand, Bash and Dash worked on The Other Railway for a few years before Mr. Charleston eventually got tired of their behavior and sent them to Misty Island, so the mainland could get jobi wood. They were eventually forgotten when jobi wood was no longer needed.
Ferdinand, Bash and Dash found Thomas on Misty Island and helped him collect Jobi wood to take back to Sodor. Unfortunately, Ferdinand and the twins ran out of oil while going through the Misty Island Tunnel. Luckily, Whiff and Percy were able to rescue Thomas, Bash, Dash, and Ferdinand and took them all back to Sodor. Ferdinand then helped with the completion of the Sodor Search and Rescue Centre along with Bash and Dash.
Ferdinand later helped Gordon deliver The Lion of Sodor to The Duke and Duchess of Boxford's Summer House.