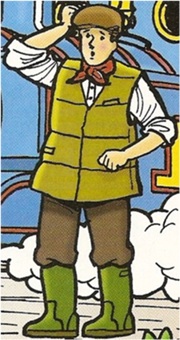 Farmer Collett is a farmer who runs Farmer Collett's Farm. He is good friends with Jem Cole and owns a bull named Lord Harry (Bull), several horses, and other animals.
He is old-fashioned and often remembers the "good old days". He regularly travels to the village on one of his horses along a bridleway. The bridleway was split in two when Thomas' Branch Line was constructed. This was later solved when Sir Topham Hatt purchased a cheap scrap turntable from the Mainland to be made into a bridge to cross Thomas' line.
Farmer Collett once decorated an old oil tank to make it look like Thomas in an effort to get a rare bluebird to move out of Thomas' funnel. The trick works and the bluebird now happily resides in a chimney pot on the old oil tank. Thomas named the oil tank, Bluebird. After drawing the face on the oil tank, Thomas remarks that Farmer Collett is a good artist as well as a farmer.
Farmer Collett has worked as a gardener at Dingley Hall where he cut some bushes into the shapes of animals which scared the engines.
Community content is available under
CC-BY-SA
unless otherwise noted.