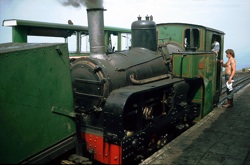 Eryri lives on the Snowdon Mountain Railway.
The boilers of these engines are superheated, making them more efficient, and in place of a lever type regulator, they have a wheel that must be turned 2¼ times between closed and fully open. The drive from the cylinders and to the wheels again uses levers, but in a different pattern. The linkage is fitted within double frames at the front of the locomotive. This results in a locomotive that is far more rigid. The side tanks are arranged vertically just in front of the cab. No.6 carries the same amount of water as the earlier engines, but No.7 & No.8 carry enough water to get to the top of the mountain without stopping, if required. There is no separate tank for cooling water as it is drawn from the boiler on these engines. Eryri was built at the Swiss Locomotive and Machine Works in Winterthur, Switzerland in 1923. Eryri means "Land of Eagles" in Welsh and refers to Snowdonia and the surrounding area.
Community content is available under
CC-BY-SA
unless otherwise noted.