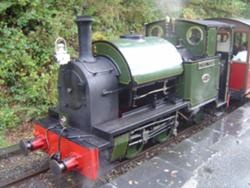 Edward Thomas is a 0-4-2ST built in 1921 by Kerr, Stuart and Co. Ltd. who works on the Talyllyn Railway.
Edward Thomas worked on the Corris Railway, along with Sir Haydn, until the line's closure in 1948. He was purchased by the Talyllyn Railway in 1951 and named after its former manager. After repairs were carried out by the Hunslet Engine Co., the engine entered service on the Talyllyn Railway in 1952 and has proved most successful. From 1958 until 1969 a Giesl ejector was fitted instead of a conventional chimney, the first such installation in the British Isles.
An extensive overhaul, which included the fitting of a new boiler, was completed in late May 2004, and the engine returned to public service on the thirtieth of that month as "Edward Thomas" in unlined green livery.
Community content is available under
CC-BY-SA
unless otherwise noted.