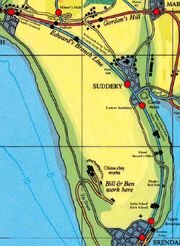 Edward runs a branch line running from Wellsworth along a peninsula to Brendam Docks. BoCo and occasionally Donald and Douglas assist in running the line. Thomas also worked on the branch line while a bridge on was being repaired on his branch line.
The bigger engines are forbidden to travel along the line due to the weaker rail construction, however Gordon was once switched onto the branch line with the express by accident.
History and Operations
[
]
The branch, originally part of the Wellsworth and Suddery Railway, opened in 1870. The eastern end became a branchline after the North Western Railway opened in 1915.
There is extensive china clay traffic from Brendam. There are peak passenger "through" trains to and from Tidmouth, at other times there is a local service from Wellsworth to Brendam.
A small scrapyard, known as Crock's Scrapyard, is situated on the line. Edward consistently brings scrap metal to and from the yard. Reg works here.
Points of Interests
[
]
Wellsworth / Edward's Station

Wellsworth Vicarage Orchard
1 Shunting Yard (Wellsworth Yard)
Wellsworth Scrap Yard / Crock's Scrap Yard
Wellsworth Ice Staking Rink
Wellsworth Animal Sanctuary
Wellsworth Bank
Wellsworth Park
Sodor Snack Bar
Wellsworth Fire Department
Topham Hall
The Skateboard Park
Wellsworth Hospital
St. Tibba's Nunnery
Wellsworth Scrap Yard / Crock's Scrap Yard
Wellsworth Nunnery
Wellsworth Signalbox
Wellsworth Junction
Wellsworth Town Hall
The Bull's Field
Wellsworth Road
Wellsworth Crossing
Wellsworth Bridge
Wellsworth Church

Suddery – Sodor's Capital

Island Records Office
1 Shunting Yard
Suddery Junction
Suddery Castle
Suddery Tunnel
Lower Suddery

1 Shunting Yard (Lower Suddery Yard)
Signalbox

Kit's Owner's Cottage
Suddery Crossing
Suddery Signalbox
Suddery Hill

Brendam

Brendam Docks

Goods Shed
Passenger Loading Dock
The Dock's shunting yards
Sodor Shipping Company
Sodor Trading Co.
Brendam Warehouse
The Coaling Station
Brendam Drawbridge
Brendam Goods Station
Brendam Airfield
The Regatta
Brendam Sheds

Brendam Coast
Upper Brendam
Fultan Ferry Company
The Dockside Café
Sodor Coal Company
Fultan Ferry Co.
Salty's cave
Brendam School / Sodor School (Girls-only School)
Brendam Canal
Brendam Yards
Brendam Loop
Brendam Crossing
Brendam Junction
Brendam Hill

The Fenland Track
Sodor Animal Park / Sodor Wildlife Centre
Dingley Hall
The Flour Mill
The Mail Depot
The "Drain"
Magic Shop
The Camping Station
Valley Farm
Sodor Fireworks
The 3-Way Road
Maura (river)
Rescue Center Branch Line

Sodor Search & Rescue Center

The High Bridge
The Misty Island Tunnel (still open)

Coastal Cliffs
The Fenland Junction

Sodor China Clay Company
Sodor Hospital
The Community Center / The Community Center Construction Site
The Cabbage Patch Field
The Muddy Field
The Unsafe Tree Hill
Track & Road Runby
2-Story House & Workshop Runby
The Flooded Road