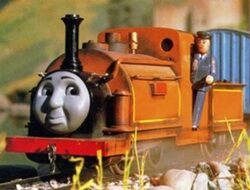 Duke, named after the Duke of Sodor and originally called The Duke, is considered a hero amongst the engines. He lives on the Skarloey Railway. He is also one of the oldest engines on Sodor.
Bio
[
]
Duke was built, in 1879, at Boston Lodge in Minfford, Wales to the order of John Arnold Norramby, Earl of Sodor and Chairman of the Mid Sodor Railway. The Board of Directors named him in honour of the Earl and rostered him to haul the Opening Train.
Duke lived on the Mid Sodor Railway with several engines including Stuart, Falcon, and briefly Smudger, until the line went bankrupt and Stuart and Falcon were sold. In 1947, the line closed and Duke was sheeted and sheltered in Arlesdale Sheds. He was later discovered by Fergus Duncan, the Reverend Teddy Boston and the Reverend W. Awdry in 1969 and taken by road and rail to Crovan's Gate. There Duke was restored and rebuilt, through the kindness and generosity of Sir Topham Hatt and Richard Robert Norramby, who shared the cost with Sir Handel Brown II. He was finally re-united with Sir Handel and Peter Sam and for the first time in its history the Skarloey Railway had motive power to spare, which allowed Sir Handel to be lent to the Talyllyn Railway in 1982, while Sir Haydn was out of service for repairs.
</gallery>