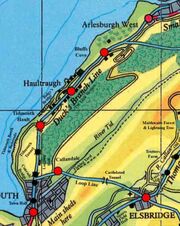 The "Little Western" is a coastal branch line operating between Tidmouth and Arlesburgh. It is nicknamed so because the line is decorated in Great Western Railway colours and is worked by Duck and Oliver, two Great Western engines.
History
[
]
The branch was at first a one-line extension of the North Western Railway built after a Government order in 1916. It was intended to reach Harwick; however, by the time Arlesburgh was reached, there was no longer need for further extension. Material from the Arlesdale mines was needed for the war effort, but when the mines closed in 1947 there was not enough traffic. Permission was requested to close the line, but this was refused and thus a minimal service was operated.
In 1964 need for a new harbour arose and the line was reinstated. It was given to Duck, as he knew the Arlesdale Railway engines and had done excellent work in the yards. Oliver, Donald and Douglas also came to help.
Points of Interests
[
]
Tidmouth

Tidmouth Beach
Tidmouth Beach Village
Tidmouth Harbor
Tidmouth Hault

Tidmouth Hault Sheds
Tidmouth Hault Yard
The Tunnel
The road & bridge by the station building
Signalbox

Tidmouth Tunnel
Town Square

Town Hall
Town Square Library

1 Shunting Yard (Tidmouth Yard)

Tidmouth Sheds
Tidmouth Goods Station

Sodor Aquarium
The Iron Bridge (spans over Tidmouth town center)
The Flyover Bridge
Tidmouth Tunnel (south)
Tidmouth Signalbox
Tidmouth Sheds
Tidmouth Goods Station
Tidmouth Crossing
Tidmouth Signal Runby
Tidmouth Junction

Dilly's Pond
The Workmen's Hut
Three Tier Bridge
Haultraugh

Bulgy's Bridge
Bulgy's Field

Bluff's Cove
Arlesburgh

Arlesburgh Engine Shed
Arlesburgh Harbor
Arlesburgh Maritime Museum

Arlesburgh Maritime Museum Harbor

Sodor Trading Co.
Arlesburgh West

Arlesburgh West Yard
Arlesburgh West Ballast Chute

1 Shunting Yard (Arlesburgh Goods Yard)
Capital Calles' Pirate Ship
The Ballast Chute

The Lighthouse
The Seaside Village
Skiff's Railboat Tours
Logging Halt
Sodor Lifeboat Station
Sodor Shopping Center
Sodor Yacht Club
The Boatyards
The Winter Nature Research Center
River Tid
Ffarquhar Station Master's House
2 Coal Hoppers
Highcliff
Seaside Station
Sodor Sea Centre
River Arle
Faarkey-Y-Sudragh
Conrad's Bridge
The junction to The Loop Line
Star Theater
The Cliffs Runby
Sodor Scenic Railway
Standard & Minimum Gauge Hill
Callandale Junction
Conrad's Hill
2-Track Bend & Goods Station
Standard & Minimum Gauge Forest Runby
Goods Station
Oliver's Shed
Locomotives
[
]
Steam
[
]
Standard Gauge
Narrow Gauge
Rolling Stocks
[
]
Coaches
[
]
GWR Autocoaches

Isabel and Dulcie
Alice and Mirabel

3 Slip Coaches
Red Branchline Coaches
Red Express Coaches
Freight Cars
[
]
Fred Pelhay
S.C. Ruffey
U.L.P. Van
Breakdown Train
BR 12-Ton Vans
Cattle Trucks
Flatbeds, Conflats and Well Wagons
GWR Ventilated Vans
Hoppers
LBSC Railway 8-Ton Vans
LMS Banana Vans
LNER 12-Ton Vans
Mineral Wagons
NER Vans
Plank Trucks
Quarry Trucks
Salt Vans
Tankers
Troublesome Trucks
Utility Vans
Cabooses
[
]
GWR 16-Ton Brake Vans
BR 20-Ton Brake Vans
SR 25-Ton Brake Vans
W&LLR Brake Vans
Trains
[
]
Vehicles
[
]
Road Vehicles
[
]
Buses

Algy
Bulgy
Bulgy's Friend

Tractors
Water Vehicles