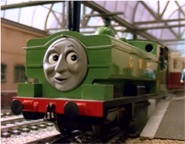 Duck, whose real name is Montague, is a Great Western pannier tank engine. He runs Duck's Branch Line, and two Great Western autocoaches named Alice and Mirabel.
Duck worked at Paddington before moving to Sodor in 1955 to take over Percy's shunting duties, leaving the latter free to assist with the construction of Knapford Harbour. Duck was a hard worker, but the others mistook his work ethic for simplicity and tried to use this to their advantage. They soon found their mistake when Duck and Percy took revenge on them by barring them from the shed.
When Diesel arrived, the others took a liking to his flattery, but Duck was doubtful and left Diesel to his own devices, which resulted in the latter getting into a mishap with some old trucks. Diesel vowed to get revenge and, inspired by several incidents occurring around the yard in Duck's absence, spread rumours that Duck had given offensive nicknames to the others. Duck was sent to work as a banker at Wellsworth pending further inquiry and after bravely stopping a runaway goods train at his own risk regained the respect of the others. Of course, by this time the others were aware that the matter was all Diesel's fault, but Duck's triumph certainly helped.
Duck continued working on the main line until 1968, at which time the Tidmouth-Arlesburgh branch line - nicknamed The Little Western - was restored and Duck was asked to run it with help from Oliver and, on occasion, Donald and Douglas.
Duck had many adventures, such as: Helping Stepney take the express to Crovan's Gate after The Diesel broke down, supporting Oliver when he took on S.C. Ruffey and the other trucks, went to the Big City with the engines after they received a letter from a little girl.
Later, Duck was trapped at the docks with the big engines and Cranky. The Tramp Steamer crashed into the shed causing the shed and Cranky to topple over while also causing the engines to be trapped. Luckily, Thomas and Percy rescued them. Afterwards, George refuses to let Duck get his truck off The Main Line, resulting in Gordon crashing into it.
Community content is available under
CC-BY-SA
unless otherwise noted.