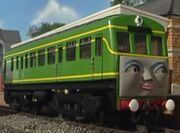 Daisy is a Diesel rail-car, who works on Thomas' Branch Line.
After Thomas was sent to The Works to have his bufferbeam repaired in 1960, Daisy was loaned from B.R. to do his work. Daisy was nasty to Henrietta, Annie and Clearabl, refused to sleep in Ffarquhar Sheds on the grounds that it was "smelly", and blatantly refused to pull freight because it was "bad for her swerves". Daisy later called Toby cowardly for having sideplates and cowcatchers and claimed that one only needed to "toot and look them in the eye" to shoo animals away. This, of course, was proven false when Daisy tried to shoo an inquisitive bull named Champion. Sir Topham Hatt discovered that Daisy was lazing about, but gave her a second chance after Daisy helped clear up the mess made when Percy collided into a train of stone. Daisy promised to change her ways.
Mavis sought Daisy's advice about how to show Toby that her method of doing things was correct. This was not exactly the best move, as Daisy knew next to nothing about trucks.
Daisy was put in charge of Thomas' fast run to Knapford while Thomas was in York. Daisy later claimed that she was not afraid of snow, but changed her mind after getting stuck in a snowdrift for a week.
When Thomas finally returned from York, Daisy was given charge of a special train to bring guests to Knapford for the welcome-home party, but was delayed after running over some cones left inside the crossing gates at Dryaw crossing. She just made it in time.
Daisy teased Percy for being afraid of grass snakes, but was humiliated when she blew a fuse out of fright when a crate of eels dropped beneath her.
Community content is available under
CC-BY-SA
unless otherwise noted.