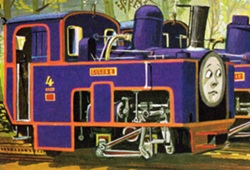 Culdee is a mountain engine named after Culdee Fell, the mountain that the Culdee Fell Railway climbs. He has his own coach, Catherine.
Culdee was built at the Swiss Locomotive and Machine Works in Winterthur, Switzerland, in 1900. In March 1900, he was the first to be used in the test runs on the Culdee Fell Railway. When Lord Harry was delivered in March 1962, Culdee left for overhaul instead of Shane Dooiney as he was the most run down of the two. He arrived back on Sodor in May 1963.
Community content is available under
CC-BY-SA
unless otherwise noted.