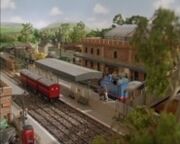 Crovan's Gate is a town near a narrow gap in the hills that is the only practicable route into the centre of Sodor from the east. The town's station is the terminus of the Skarloey Railway. Most steam locomotives from across the Island go to The Works, established in 1915, to be repaired.
The town is named after Godred Crovan, who saved Sodor from a Viking invasion. After a warring band of Vikings landed nearby, they were lured to a small pass which led to the centre of Sodor and attacked. The Vikings retreated to their boats, only to find they had all been burnt by another party who had hidden nearby.
Background
[
]
The Works are possibly the best equipped for steam engine restoration in the British Isles - they are capable of any repair, overhaul, or restoration job for any locomotive on the Island. The Works can also manufacture steam engines and Sir Topham Hatt has been looking into the possibility of manufacturing parts for engines on heritage railways.