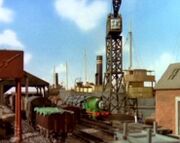 Cranky is a grumpy dockyard crane.
Cranky bullied Thomas and Percy by delaying their loads and calling them "bugs". He later got his comeuppance after The Tramp Steamer crashed into him and had to be rescued by the two tank engines. Afterwards, he promised never to insult them. However, he still teases the engines, such as when Percy complained that there was too much work and when Henry arrived at Brendam Docks in a barge full of fish.
Despite his lack of sleep, Cranky works very hard. But his working attitude makes the engines cross whenever they think that Cranky is too slow - as a result of their insults, Cranky can cause accidents.
Although he is naturally grumpy, Cranky has shown that he has a kind side too. Once he helped Thomas out of trouble when he and Percy were playing "Hide and Peep" by finding Percy in the dry dock.
He has befriended a seagull that often visits him and has named it, rather fittingly, Seagull. Cranky is not fond of all animals though and is shown to have a fear of elephants.
Cranky has an intense dislike for Salty's stories and Charlie's jokes. According to one of Salty's tales, Cranky is "the Monster of Brendam".
Cranky needed some help, so Kevin was sent to help him. However, Cranky refused the help, leading Kevin to fall into the sea. Cranky rescues Kevin, and apologises for being so mean.
Cranky attempted to stop a ship that Gator was on, after Thomas thought that Percy was on board the ship. However, this resulted in Cranky breaking, forcing the ship to turn back.
Community content is available under
CC-BY-SA
unless otherwise noted.