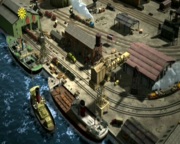 Brendam, also known as Brendam Docks or Brendam Bay, is a town with a population of 5,000. It is the top station for Edward's Branch Line and an important harbour. Bill and Ben bring china clay from the nearby Sodor China Clay Company, and it is shipped to the mainland.
The Sodor China Clay Company, established in 1948, occasionally hosts days when enthusiasts may look around. Bill and Ben particularly enjoy the attention these visitors give them.
A coastal branch line runs from the port, and is mainly used for fish traffic. It also appears that the express stops here on its way to Vicarstown, to collect passengers from the many ocean liners that come in here. There is a station near the docks. The mail barge also docks here. The docks here are large and extensive, with many warehouses, cranes, rail yards and canals.
Community content is available under
CC-BY-SA
unless otherwise noted.