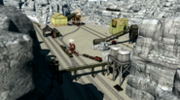 Anopha Quarry, also known as the Ffarquhar Quarry Company, is the quarry at the end of Thomas' Branch Line. Toby, Henrietta, and Bertie take the quarrymen to and from the quarry, but unfortunately Bertie can only go up to the quarry gates and the two had a hard time transporting the workmen. The problem was solved after Sir Topham Hatt renovated an old coach called Victoria and joined her with Henrietta and Toby.
There are four passenger trains a day from Ffarquhar for workers at the quarry and freight trains run when required. There is only a platform and waiting shelter at the quarry. The stone is used widely on Sodor and on the mainland for buildings because of its hardness.
Toby and Flora are the only engines owned by the North Western Railway allowed on the line lawfully because of their cowcatchers and sideplates. Toby brings the workers to the quarry, takes stone back to Ffarquhar, and will help Mavis with shunting when he isn't busy.
Community content is available under
CC-BY-SA
unless otherwise noted.